Best Applications for Mobile Cranes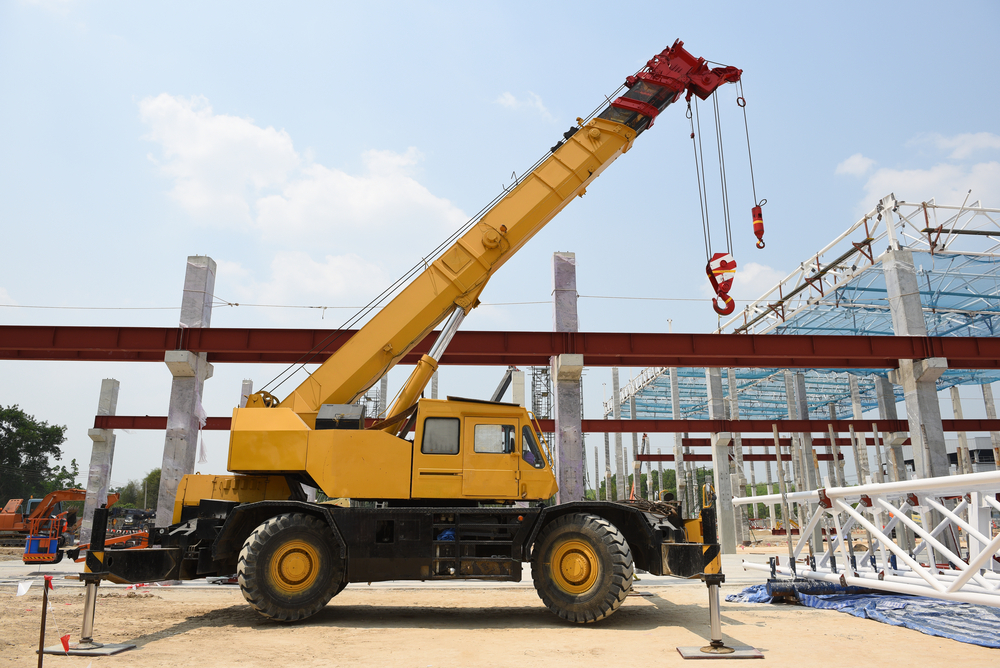 Why Rent Mobile Cranes for Your Project?
Choosing the right crane can make a significant impact on construction and maintenance projects. This is true whether you're building a stadium, setting up an outdoor music venue, or maintaining a windmill. Every situation is different, and there are many different types of cranes, which allows construction teams to find the appropriate solution for any need. Tower cranes are popular choices because they can reach the greatest physical heights and have the highest lifting capacities, but it is also important to understand the benefits and uses of mobile cranes.
Benefits of Mobile Cranes
The biggest benefit of mobile cranes compared to tower cranes is that they do not have to be rooted in place when installed. This can help reduce the time between lifts and improve line speed as the cranes move about the job site. For example, this is why crawler cranes are so valuable for new steel construction. The versatility of mobile cranes shines through in numerous ways and yields all of the following benefits.
Cost Efficiency of Mobile Crane Rental
When it comes to crane rentals, mobile cranes are much less expensive than tower cranes. Some of the cost comes down to the rental itself, while the rest involves setup and operation. Tower cranes have to be erected from the ground up, which comes with labor costs. If this is not budgeted correctly, projects may be burdened with unplanned expenses when they have to pay staff to help set up and tear down the equipment. With a mobile crane, costs are lower and more transparent because all teams have to think about is the crane rental cost itself.
Mobile Cranes Have a Versatility and Small Footprint
In addition to the cost savings, mobile cranes add a lot of value by being extremely flexible. This is helpful in urban situations where spaces are tight, and construction teams need a nimble solution that can reach spaces between buildings or other obstacles. Mobile cranes are great for tight job sites in cities, but that is far from the only benefit of their versatility.
They can also cover more ground at large, open job sites, especially compared to static cranes that can only operate within a fixed area. Whether you need a space saver or a roaming lifting solution, mobile cranes fit the bill. This makes them strong choices for wide-open job sites and cramped spaces alike.
Speed and Ease of Maintenance With Mobile Cranes
Mobile cranes are relatively easy to service and maintain in the unfortunate event of a problem. Compare this with tower cranes, which generally require a lot of time or planning to fix. In the case of a mobile crane, it might be relatively easy to swap it out with a new one since the setup and teardown process is less involved. It may also be possible to perform maintenance safely and efficiently right on the spot.
Mobile Cranes Have a Comparably Easy Setup
The quick setup of mobile cranes helps keep costs down because there is no need to spend time erecting the crane, and it also expedites project workflows. There are often tasks that cannot be completed while waiting for a crane. If the construction team has to wait days or weeks for a static crane to be set up, all dependent tasks are blocked. Ready crane solutions like mobile cranes reduce waiting and downtime.
When to Use a Mobile Crane
The primary drawback of mobile cranes is that they are not as strong as tower cranes and cannot handle the same type of load capacity. Even so, many mobile cranes do offer excellent reach and great strength. This makes mobile cranes useful any time the project requires a good deal of strength coupled with any of the benefits listed above.
For example, mobile cranes are useful for all of the following applications:
- Increase line speed for new steel construction.
- Move around a job site and reduce the time between lifts by being highly mobile and relatively easy to transport.
- Reach tight areas or conquer tough terrain to make lifts.
Types of Mobile Crane Rentals
Upon deciding that a mobile crane is necessary, it becomes important to choose the correct one. There are numerous types of mobile cranes, each of which offers its own unique strengths. All of the following are common examples:
- Crawler Cranes
- Rough Terrain Cranes
- Truck Mounted Cranes (TMCs)
- Carry Deck Cranes
- Floating Cranes (also known as Crane Ships or Crane Vessels)
- Loader Cranes
Mobile Crane Rental Services in the Western United States
One of the primary reasons companies choose Reliable Crane Service is that we offer access to various cranes as well as take extra measures to ensure satefy on the job. Our crane rentals have supported numerous successful construction projects across many industries, ranging from stadium construction to music festival setup and more. Contact us today to learn more about our mobile cranes and select the best option for your current or upcoming project.
Image Source: HacKLeR / Shutterstock