Tower Cranes - Heavy Lifting + High Performance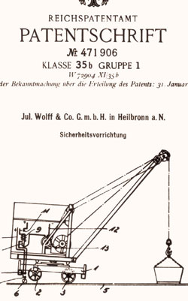 Tower Cranes. Reliable Crane Service offers THE most impressive line up in the tower crane industry. The world of construction is getting bigger, and Heavier…..So are our cranes! We offer the safest, and most impressive tower cranes manufactured. As a Wolffkrane dealer we host the perfect solution for your hoisting needs. Wolffkrane is the oldest tower crane manufacturer on the planet, starting in 1870.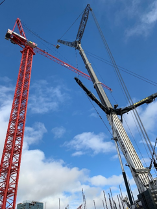 For example: the Wolff 1250B- an impressive 66 Ton tower crane able to chart 120kips @100'! to the 166B a city class luffer to keep you out of trouble with ever changing air space problems.
Our roots started early on with the TG series tower cranes, originally designed with capacity and line speed in mind they are still an impressive toll for many applications. The TG 1900 is a 115 ton tower crane with a maximum luffing boom of 220'. It has the versatility to be mounted on a fixed tower, climbing tower, wheel mounted bogie, and a pedestal. The TG2300B is the larger of the two models with a maximum capacity of 230 tons. Whereas the same mechanical system is used as the TG 1900 the structure has been upgraded to give the crane a larger capacity. It has a maximum luffing jib of 240'. Both cranes have a single line pull of over 57,000lbs. and a max hoisting speed of over 700' per minute. A monster in our business. Seen here on our "diving board" platform in Los Angeles.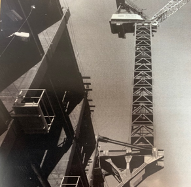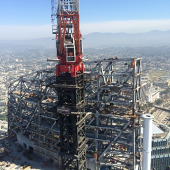 We pride ourselves on doing the tough jobs, the I don't think that can be done job, this is the basis on which our country was built and we still believe today. Our collection of tower cranes run from self erectors that are perfect for short or mid-rise projects to the 230 ton luffing tower cranes that have helped build some of the largest buildings in the world. We have done various impressive engineering feats on projects as well including the following: jumping cranes with internal climbers, setting cranes on podiums or pool decks, setting assist cranes for erection and dismantles on podiums, having our tower cranes lift other large cranes into the excavated sites of projects, set cranes on platforms above city streets, etc. Let's not say can't….. but work on how….. Please call or email with your project needs so we can show you the Reliable Crane Service difference!