Gantry Crane for Heavy Fabrication Applications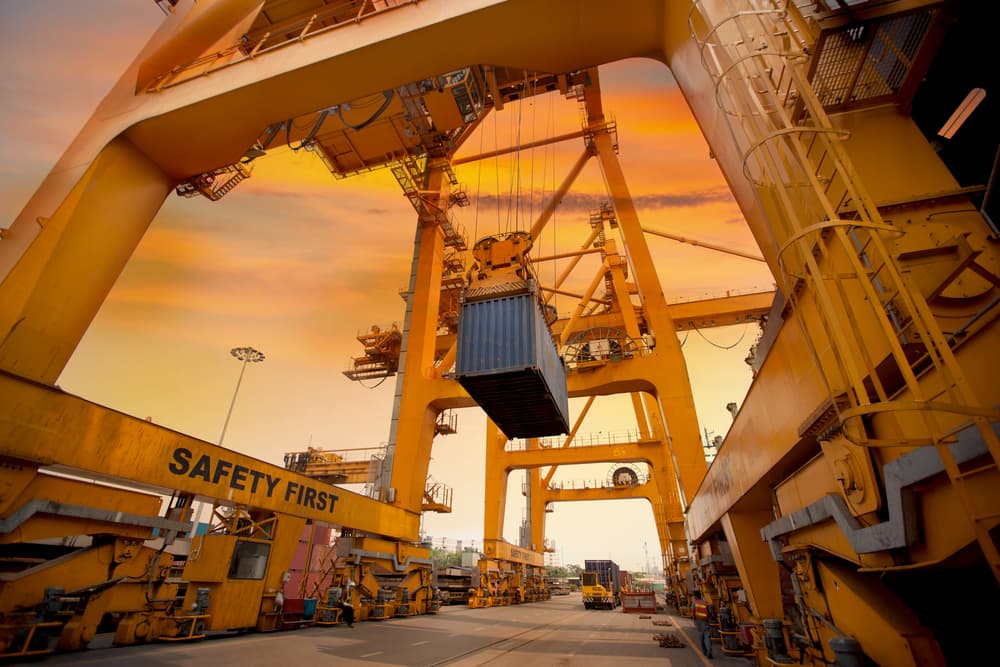 What is a Gantry Crane?
Most people have heard about the gantry crane but never know what it is or how it works. It is commonly mistaken for an overhead bridge crane, though the two couldn't be more different. This post looks at the gantry crane in detail, including the current gantry types available and their uses.
A gantry crane is an overhead crane type with freestanding legs for the support that can move on wheels, a track, or a railroad system. The standard gantry can lift anything from a few hundred pounds to hundreds of tons, so it is mainly preferred for heavy lifting and construction jobs, especially where a bridge overhead crane can't.
Types of Gantry Cranes
There are many gantry cranes for industrial use with varying lifting capacities. They are categorized by crane size, girder configuration, design, and the conditions where they are used. They include:
Full Gantry Crane
The full gantry crane is the default and most popular version of a gantry crane. It has a crossbeam, a hoist, and two legs that can run on a track, wheels, or rails. Most of these cranes have an economical design to leave enough space for other equipment to maneuver, while some are portable, depending on their size.
Semi Gantry Crane
This crane type is among the most versatile cranes as it can fit both indoors and outdoors. The unique thing about it is that it stands on one leg instead of two, while the other crane side is supported by a wall or structure next to it. Standard features of a semi-gantry crane include a bridge, trolley, crane mechanism, and a hoist.
Portable Gantry Crane
These are lighter-duty gantry cranes of different shapes and sizes that run on rubber wheels or casters. These cranes can be moved to any facility, but the weight each can lift at a time varies from half a ton to five tons.
Adjustable Gantry Crane
Adjustable gantry cranes come in portable and fixed forms with the ability to be adjusted to fit the load requirements. The smaller versions are the most common, but more significant types exist with single girder configurations.
The Best Gantry Crane Uses
Gantry cranes can be used in any industry due to their excellent lifting capacity and features, including a hoist and trolley. Their flexibility makes them the right tool for industrial use in the following sectors:
Shipyards
Shipyards are where heavy-duty gantry cranes are used the most to help move heavy ship parts and loads. They perform a variety of roles, including, but not limited to, shipbuilding, material movements, repair, and unloading.
Manufacturing
Gantry cranes are used across various manufacturing sectors, especially in the aircraft, auto, and steel industries. They perform considerable roles in these fields, such as lifting and moving heavy materials, supplies, and parts placement and installation.
Warehouses
Warehouse operations involving heavy lifting are generally left for gantry cranes. Most of them are mobile, so they take care of all aspects that require loading and unloading.
Container Yards
Gantry cranes move heavy, box-sized containers that an otherwise regular forklift cannot. Based on their flexibility and mobility, they are the best tool for shipping container movement.
Gantry Crane Classifications
Cranes can be classified into different categories based on their support weight, lift cycles, load intensity, and lifting frequency. The following are the classifications they came up with:
Standby Service
These are class A gantry cranes with slow speeds that require long breaks between lifts. They are essential in transformer stations, motor rooms, and other public utility services requiring precise equipment handling.
Light Service
Class B gantry cranes carry full loads with two to five lifts every hour. Each lift is ten feet long, suitable for service buildings, warehouses, and assembly operations.
Heavy Service
These gantry cranes can go for hours uninterrupted, lifting ten to twenty lifts in an hour. They are portable, so they can play multiple roles in fabricating industries, shipyards, container movement, and steel storage.
Severe Service
Severe service cranes move full loads in twenty or more lifts per hour. They function at an extremely high rate and require frequent inspections.
Continuous Severe Service
Class F of gantry cranes are the last but most powerful. They continuously carry heavy loads in demanding conditions and are suited for high-frequency use and heavy load lifting requirements.
Rent a Gantry Crane Near You
Need reliable heavy-duty lifting services? Reliable Crane Service offer the best crane rental services in Corona, CA, Las Vegas, NV, and Pacoima, CA. Contact us today to learn more about our gantry crane services.
Featured Image: potowizard/Shutterstock