5 Industries That Use Heavy Lifting Cranes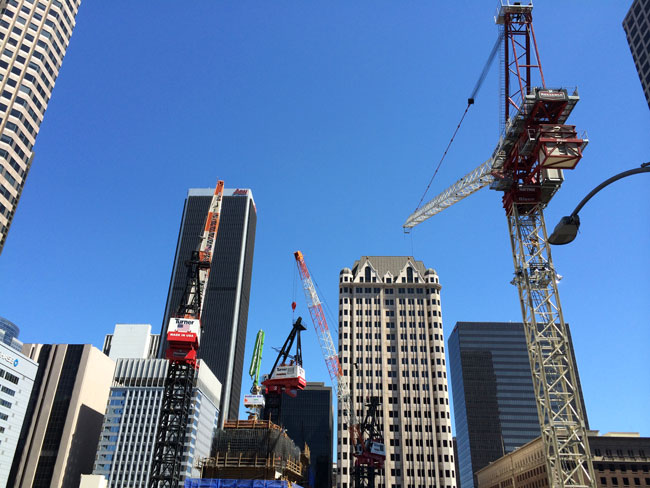 5 Industries That Use Heavy Lifting Cranes
What You'll Learn
As you read this article about the different industries that use heavy lift cranes, you'll learn:
Many different types of projects require cranes to get the work done more quickly and efficiently.

The type or types of cranes you need may depend on your specific industry.
Industries That Use Heavy Lifting Cranes
Cranes are necessary pieces of equipment at many different job sites. When you need to lift and move heavy loads, having the right crane can increase safety, speed, and efficiency. Here at Reliable Crane Service, we've seen it all, and we know that some situations require overhead cranes. Based on our experience, here are five industries that rely on heavy lift cranes the most.
1 – Oil and Refinery Industry
To be successful in the oil industry, a company needs to overcome many different types of challenges. The proper cranes and other equipment can go a long way toward keeping up with those demands. In some cases, a job site might require multiple cranes running 24/7. Other companies are more focused on finding a way to navigate country roads and get the proper permitting. In either case, our team can provide site-specific safety training, a variety of crane options, and turnkey project management for oil companies.
2 – Power Infrastructure and Power Plants
From engineering to demobilization, the effective use of cranes is critical at power plants and throughout the energy industry. Installing, maintaining, transporting, and removing the various components that keep projects on track requires the proper equipment, strategy, and skill. Every type of plant requires different machinery moving, procedures, and safety orientations, but our experts at Reliable Crane Service have experience with all of the following:
Solar

Coal

Wind turbine (including wind farm erection and wind farm maintenance)

Stream

Natural Gas

Transmission Lines
3 – Residential and Commercial Construction
Visit any given construction site, and you're likely to find at least one type of crane. Our equipment and expertise have helped erect everything from hotels and casinos to residential projects. HVAC companies, offices, and governments have all used our cranes to deliver projects safely, on time, and under budget. We even partnered with the primary general contractor and steel erector at the new Las Vegas Raiders stadium, where we provided over 16 cranes and had more than 50 employees onsite at one time.
4 – Industrial Construction
Our capabilities with heavy lifting, storage, and hauling are helpful for many specialized construction projects in some of the most technical industries in the world. Our civil construction projects include work with chemical plants, factories, water treatment facilities, and more. We've helped establish telecommunications infrastructure as well as roadways throughout the years. In addition to our capabilities, we rely on numerous partners within the industry to expand our logistics network and keep costs down.
5 – Entertainment Events
Organizing a large concert requires flawless execution to meet aggressive timelines. Accommodating hundreds of thousands of concertgoers requires significant infrastructure, and the setup and teardown schedules are often limited to a few days. Our team has considerable experience with event builds:
Our Southern California branch handles the Coachella Festival yearly.

We deployed 13 cranes to build out several stages for EDC Las Vegas.
Heavy Lift Cranes in the Western United States
From wind turbines to stadiums, our team at Reliable Crane Service can do it all. We've helped move massive transformers and construct some of the tallest buildings west of the Mississippi. We're up to any challenge, so contact us today, and we'll respond immediately.